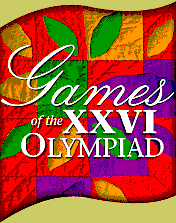 [ Return to Home ]
Welcome to Roy's 1996 Olympic Web Page
This page is a record of some of my experiences during the 1996 Olympic Games. The Games are not, by far, the best experiences fo my life. They did, though, exceed my cynical expectations and I was generally impressed by the event. I can even say that I had a pretty good time.
The Lighting of the Caldron
This part I watched on television by courtesy of my friend Pieter. Download the QuickTime Movie (stolen from NBC) to see the caldron being lit.

ali.mov (1.1 Mb)
Weightlifting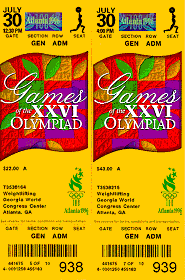 Weightlifting was much more exciting than I expected. My friends and I saw the events for the heavy weights and the finals for the super heavy weights. It is awesome to see a guy heave so much weight above his head that the bar wobbles like spring. Of course, playing with this much weight can be dangerous. Two competitors injured themselves badly enough to have to withdraw from the competition. One dropped the weights right on his shoulder. The real excitement came when the world record was broken for lifting the most weight. And then it was broken again. I'm very glad we had front row seats to that one.

Archery

I really like archery but I think I could have passed up this event. At least a freind gave me the tickets for free. It rained the whole time. The competition was stiff and pretty interesting. It was hard to get into it, though, when I was soaked and I couldn't even see the target or the arrows. The $3 pizza slice didn't help my spirits any either.


[ Return to Home ]